Home
/
CO2 fractional laser
2015-12-03 16:37:36
fractional co2 laser equipment/co2 fractional laser/fractional co2 laser
Customizable Treatment of fractional co2 laser equipment
Customize treatments foreach patient based on their indication and needs by selecting the density of tissue treated. Only the Magic Pulse gives the flexibility of 5-100% coverage in a single pass.Target dyschromia, fine lines, deep wrinkles and scars by choosing the depth of ablation.
Features of fractional co2 laser equipment
Surgical laser treatment works by targeting both the epidermis and dermis. It does this by delivering a laser beam that is divided into thousands of tiny but deep columns of treatment into the skin.
These are called microthermal treatment zones (MTZs). Within each MTZ old epidermal pigmented cells are expelled and penetration of collagen in the dermis causes a reaction that leads to collagen remodeling and new collagen formation. By using MTZs, the laser targets and treats intensively within the zone whilst surrounding healthy tissue remain intact and unaffected.This Surgical treatment results in a faster healing process than if all tissue in the treatment area was exposed to the laser.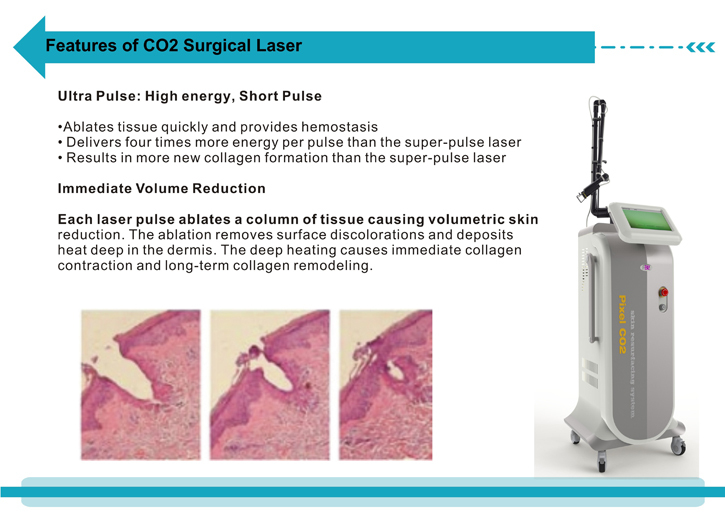 Specifications of fractional co2 laser equipment
Dot quantity

1-40000 dots at most

Spot size

Min:0.1mm at the focus

Interval Between 2 Centers

0.1-2.5mm

Scanning Graphics

Square, circle, triangle, hexagon

and customization

Duration time

100us - 10ms(adjustable)

Interval time

1-20ms

Treatment Size

20x20mm2(adjustable)

Output Power

30W

Wavelengths

10.6μm

Net weight(scanner)

165g

Working mode

Ultra Pulse Technology

Focus length

F=50mm/100mm

Laser operation modes

Ultra, Single, Repeat Pulse & CW

Control system

LCD touch screen, footswitch

Electrical

230VAC/50Hz or 120VAC/60Hz
Advantage of fractional co2 laser equipment

1.Use RF laser tube
2.Ultra, Single, Repeat pulse and CW.
3.operation modes
4.Surgical laser (scanner) technology
5.Discrete scanning technology
6.Smart variable treatment graphics
7.Power-on self-test, automatic failure
8.alarm and diagnosis
Application of fractional co2 laser equipment

1.Face lifting
2.Skin tighten
3.Pigment removal
4.Freckle removal
5.Naevus removal etc...
Before and after