2018-08-19 15:07:22
IPL SHR is the first and only technology that combines optical (light) energy.
Gentle pulses of targeted energy isolate the treatment area and leave the surrounding skin free from potentially harmful side effects.
In addition to permanent hair reduction for most hair colors and skin types, IPL effectively and comfortably treats rosacea, spider veins;
skin imperfections caused by sun damage, age spots, enlarged pores and uneven skin tones.
A series of IPL treatments will leave your skin smoother clearer with a tighter more youthful appearance.
10.4inch TFT Screen

Wavelength

OPT (430nm / 530nm / 750nm )
SHR (640nm- 950nm)

Working Mode

IPL Multi-Pulse&Single-Pulse mode SHR Working

Spot Size

15X50mm;12X33mm(Two Option for both handles)

Energy

1-26J/cm2(SHR) / 1-50J/cm2(IPL)

Pulse Width

1-15ms

Pulse Amount

1-15

Handle

1X430-1200nm(OPT) With filter
1X640-950nm(SHR)

Main Drive Power

1800W-3600W

Contious shottingnon-stop

14 working stand-by working

Handpiece lifetime

3000,000 shots times for each handle

Weight

56KG
1.The device should be placed in a room with an indoor temperature of 15~30°C; the humidity should not be higher than 80%. Operating or treatment rooms must be kept clean of all times.
2. Ensure that the key is in the off position and that the emergency cut off button is not engaged. If it is engaged, release it by rotating the button towards the direction of the arrow indicator.
3.Plug the handpiece connector firmly and properly to avoid the water circulation problems.
430-1200nm for acne treatment
480-1200nm for age spots, sun spots, pigment removal
530-1200nm for freckle removal
560-1200nm for skin rejuvenation
590-1200nm for vascular removal
640-1200nm for hair removal
690-1200nm for hair removal
750-1200nm for hair removal
Select one treatment function ,The screen will show the treatment interface as figure 1Once you press treatment model of SHR on Figure 4.1, you will come to the Parameter setting Menu。
figure 1
Once you press treatment model of SHR on Figure 4.1, you will come to the Parameter setting Menu。
Once you press treatment model of HR / SR / PR WR or AR on Figure 1, you will come to the Parameter setting Menu (IPL treatment model).
Back ground setting
When you turn on the machine , when you hear ticking , leave your finger on the top of the machine , then there would appear an picture
1. SHR hair removal machine is with Single pulse mode can emit energy averagely, emit light very fast
2. SHR hair removal treatment no side-effect.
3. with bigger frequency (from 1 to 10Hz), Which accelerate operation speed and short a lot of time for treatment. 1-10HZ adjustable frequency, can do the treatment slow or fast.
5. with Stationary technology & In-motion technology. Moving IPL can use less time to do treatment on back, leg and arm.
6. 2000W big power supply, make sure perfect treatment result.
7. Special SHR handpiece, the lamp quality is imported,high end.
1. Unique patented hand piece design, plug and play and easy to interchange.
2.Provide two laser tips.
3.Red aiming indicator can be turned on/off.
4.1-6 Hz frequency setup.
5.0-1000mj output fluence setup.
6.Automatic water recycling detector, special designed cooling system ensure constantly working.
7.Fashionable and durable stainless steel machine body.
8.Intelligent handle loss, single shots and total shots counting.
9.Korean Kacon foot switch, more secure
10. User friendly interface with LCD display; Easy to operate;
11.Remove pigmentation without side effects or scar;
12.Short treatment period with outstanding effect.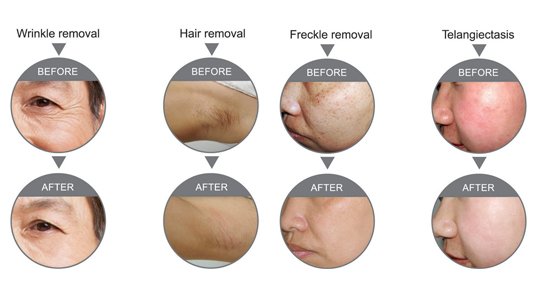 1. Permanent hair removal

2. Skin rejuvenation
3. Reduction of pigmented lesions
4. Wrinkle removal
5. Acne Therapy
6. Freckle, vascular lesions and facial blemish removal
1.We have 2 years warranty, and lifetime maintenance.
2.Within one month, if the machine is of any big fails, we will send you a new machine.
3.Within 2 year, we will be responsible for the repair if equipment is with small problem,we can delivery the part to you,you fix it according to our install instructions.
4. After 2 years, we also repair the machine, but you need to pay the cost of the changed parts.
5. For your consultation, we offer on-line service.
6.Offer OEM ODM Service